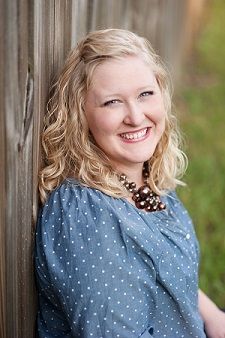 Hello! I'm Megan, The Mrs. I began blogging (here) a few years ago just writing to my family and friends about life. Well, the blog grew, and I discovered "Blog Land." I was inspired and began to create. Me and my glue gun became pretty close. Later on, my Mother in Law gave me a sewing machine. I taught myself, with the help of pinterest of course, how to sew. I spent countless hours in our teeny 2 bedroom apartment learning about zippy pouches. I had no zipper foot, and nothing more than few pictures on the internet to show me how to create a simple zipper pouch. I explored several products, but my heart always turned to zippy pouches and bags. It is a glorious world full of endless creativity for me. I love creating sweet little pouches. I enjoy trying new things, especially exploring with ruffles. It's therapy, really. Just me and the sewing machine, that very same machine my Mother in Law gave me years ago.

I love handmade products, and I love to share my goodies with the world. Truth is, if I could afford to just give them away, I would. I'm just that passionate about handmade gifts and pretties.  What's with the logo? Well, I started out with a booth in a local boutique. My darling daddy made my booth out of old reclaimed fence posts. I had the most gorgeous display. It reflected my love for all things rustic and vintage! That theme has carried over into my online shop, and it will probably follow me for a while! 


I am supported by a sweet husband who has encouraged me through every adventure and new opportunity that has come about. He is a God-fearing man who supports me even if blogging sounds kinda silly to him. He is my rock and my main man. He is my soul mate. The peanut butter to my jelly. We are best friends. Inseparable. Also behind the scenes is my sweet daughter. She is my world. She makes me laugh, she is the reason why my heart beats. She has taught me patience, grace, and so much more. By supporting BPH, you support her future.